Why Choose Test Prep Simplified?
Mary is amazing! I am a college admissions counselor and work with students throughout high school. Mary is my go-to for ACT prep. I love that Mary focuses on the "whole" student, individualizing their power prep to needs: building confidence, staying on time, understanding section best practices, etc. Mary has increased my students' test scores on AVERAGE 3 points (including my own daughter). Thank you Mary!
I took the ACT a few times and was deadlocked on my English scores. After one 2 hour session, my English score jumped from a 30 to a 33, which allowed my composite score to rise to a 34!
Sean got a 34 in Science! With his 32 in Math last time, he has a super score of 29 and qualified for full Bright Futures!
We have been thrilled with all you have done for Cole. He was immediately calmed about the test when he met you and left feeling so much more prepared. He jumped 3 points on the ACT and 70 points on the SAT. We can't thank you enough!
Mary Thomas' unique and simplified test prep helped my ACT score soar to a 30! I highly recommend Mary!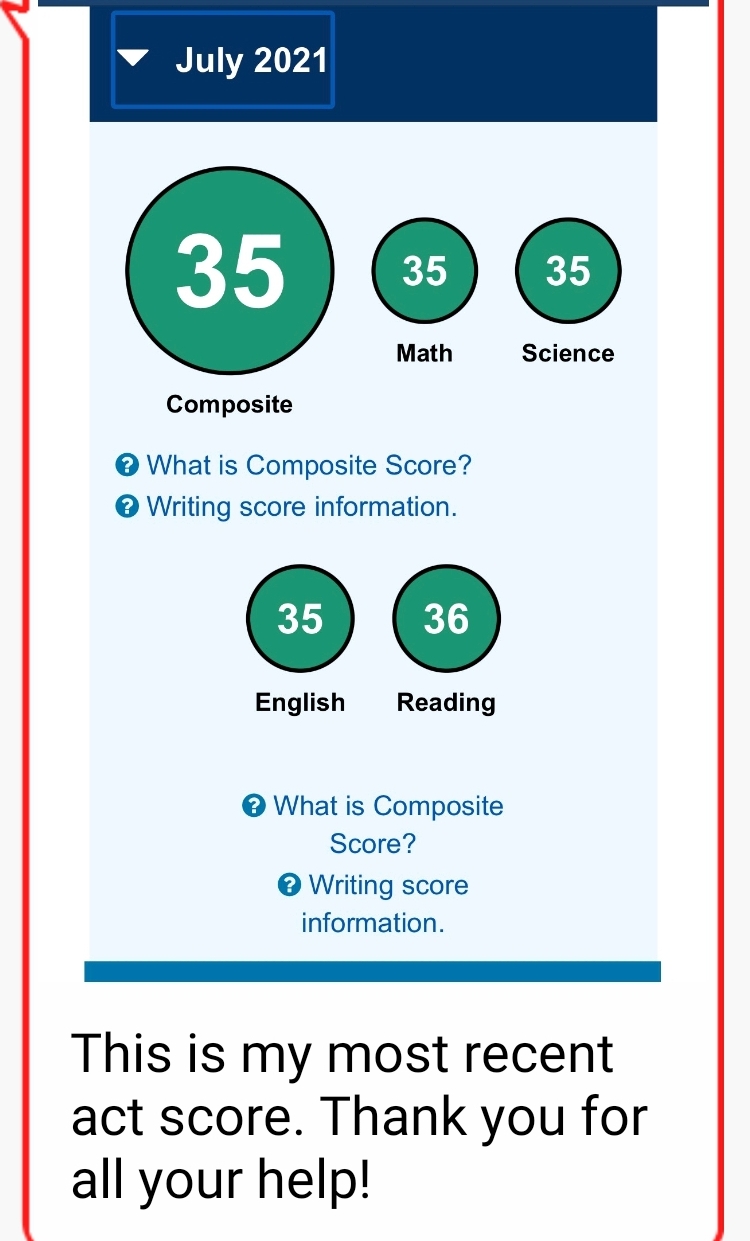 Thanks to Mary's helpful tips, my daughter Katie improved her composite score by 7 points from a 23 to a 30!
I had taken the SAT and ACT 8 times with minimal improvement until I met with Mary. I met with her the week of my ACT exam and it went so well! I felt more confident going into the exam than I ever had before. The tutoring was detailed and specific which made it easy to understand, and we targeted the points that would help me improve. With Mary's help I improved 5 points on my composite score and 10 POINTS on math and achieved my goal for Bright Futures and college admissions!
My daughter increased her score from a 24 to a 27 and received a 31 on math. Overall, very happy with the improvement. Thank you Mary.
After taking the Power Prep class with Mary, I felt very confident going into the test. I learned what kinds of questions would be on the test and practiced with sample tests. On test day, I felt prepared and not as overwhelmed and subsequently scored high enough to qualify for Bright Futures.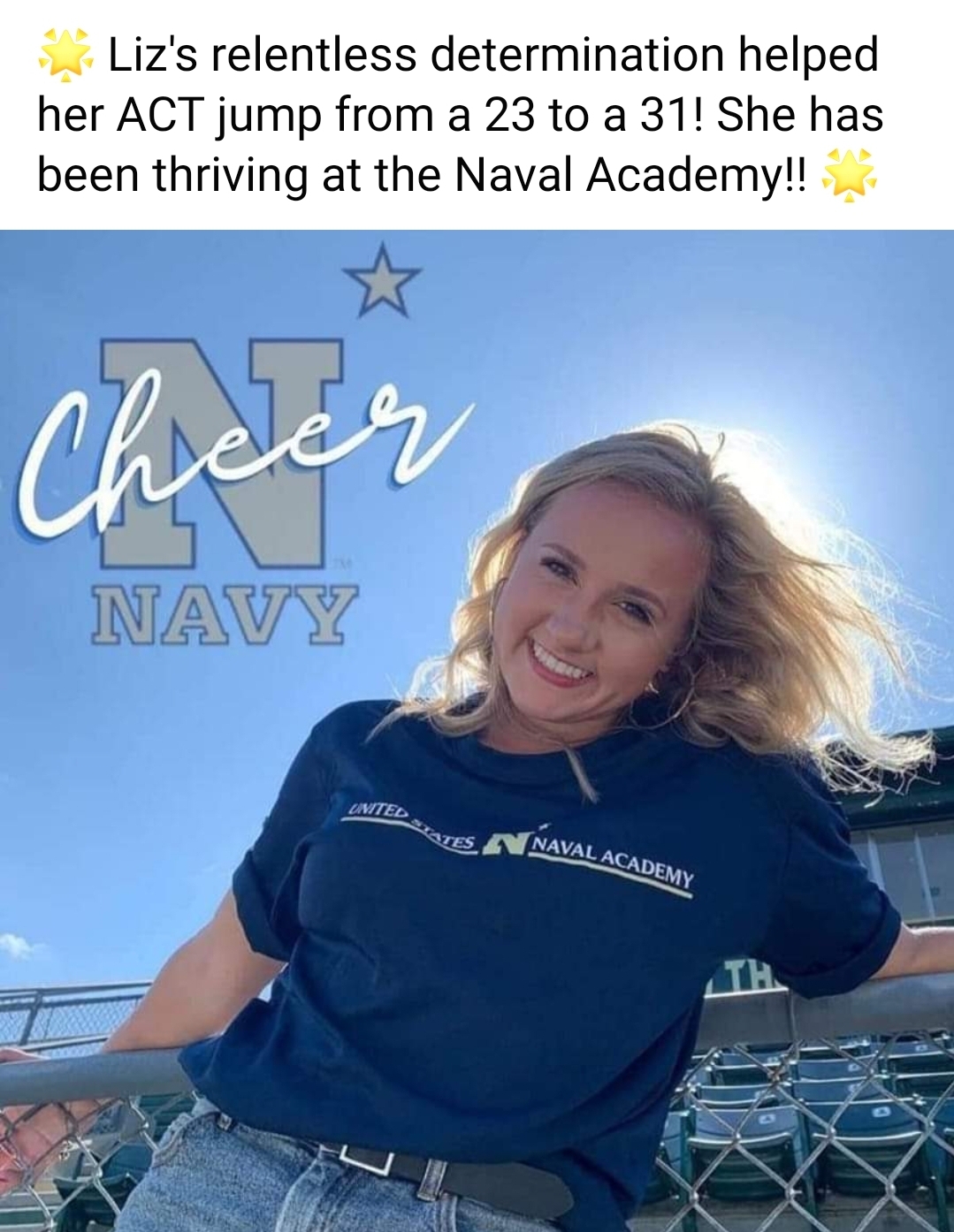 Thank you so much for helping me raise my ACT score by 3 valuable points! I'm so thankful for you helping me get better and better each time I come to you. Truly a blessing having your help!
I was very satisfied with this class! Mary's unique tips on each specific section of the test made me feel more comfortable going into the test and confident leaving it. The practice tests she gave exemplified her tips perfectly, and I also appreciated her notes on good brain foods to eat and brain exercises to use before the test. Two hours was a perfect amount to break down all sections! Thank you again!
Thank you for working with Kyle on the ACT. He scored a 26 (up from a 22.) His reading score went up 10 points from a 21 to a 31!
With Miss Mary's help my math went up 5 points to a 29 and my English went up 3 points to a 28. From my first ACT (with no prep) to my third ACT, ​my composite score jumped 7 points with a few hours of tutoring. Thanks so much!
My daughter received a 26 on her ACT! She went up 3 points – biggest increase was in reading and science. Thanks so much!
Brandon received a 1340 on his SAT! THANK YOU for your assistance and offering this class!!!
My 17 year old son was extremely hesitant to attend Mary's workshop, especially when he found out it was one on one. But instead he truly enjoyed the ACT help with her because she was able to pinpoint what he should focus on. She boosted not only his confidence but his overall score improved by 3 points!
Thank you for your help with Amanda. She increased her ACT score in all areas and moved her composite from a 31 to a 33!
Miss Mary was a huge help on my path to college. I had taken 3 SATs and could not achieve the score I needed. With just one session the week before my test, I jumped 50 points to qualify for Bright Futures! All her tips are wonderful!
I had taken the ACT once and wanted to increase my score. Mary helped me by focusing on each area, especially the ones I needed the most help on. We took a practice test and went over all of the answers in detail. I used all of her tips and tricks when taking the test again and my score went up 3 points! I'm Very thankful for Mary's help!
My experience in this SAT prep class was amazing! I learned many test taking strategies, and I boosted my score by 100 points!
Mary's alma mater, John Carroll University, wrote an article about her prep course:
Very satisfied customer here!! My daughter Madison's composite score improved by 5 -- to a 29!! Her science went up 8 points and her English went up 6 points.
Ally's ACT score went from a 31 to a 33!!! She went from a 29 to a 35 in science! The time you spent with her was a great help! Thank you so much!
This prep course gave me the confidence to improve my score by 4 points.
Without tutoring I didn't do so well. With tutoring from Mrs. Thomas, my score went up 5 points!
Mary Thomas is a fantastic educator. With her help my children were prepared and confident when taking the ACT. I would highly recommend her to anyone ​who is looking for an ACT prep teacher.
Mrs. Thomas' class was extremely beneficial, and I now know how to better approach taking the ACT. I can eliminate some of the stress that comes with such a huge test.
Mary helped my son raise his ACT score by 5 points which resulted in doubling the scholarship money offered to him by his school. She's fantastic.
Mary is amazing with her ACT instruction. Our son's composite score increased by 4 points! His science score increased by 9 points!!